Contributed by Laurie Fendrich / If theres one word that sums up Paul Czanne (1839-1906), the subject of a massive exhibition at MoMA, its struggle. But struggle in art is so 20th-century. Artists in this century dont believe in it, choosing instead to make their art from theories, ideas, or political positions. For such giants as Matisse and Picasso, however, Cezanne was the father of modern art, and for many artists of my generation, he is a continuing inspiration.
This beautiful and carefully curated exhibition of 250 works on paper (and a few oil paintings) draws from multiple public and private collections. It includes individual drawings and watercolors, not to mention drawings from nineteen sketchbooks. The exhibition borders on overwhelming, but it has a valuable takeaway: Czanne took on the Herculean aesthetic task of being honest and original all in one blow.
MoMA claims in the press release that the show reveal[s] how this fundamental figure of modern artmore often recognized as a painterproduced his most radical works on paper. Perhaps. What matters, though, is discovering how Czannes eye, mind and hand worked. For example, a somewhat aberrant pencil drawing from a private collection titled, Still Life: pain sans mie [a kind of bread] (c. 1887-1890) is, according to the label, just about the only Czanne work that includes text and (no surprise) it drew the particular attention of Picasso and Braque. The letters on the window and outlines of the bottles are described by Czannes famous repetitive, broken contour lines, which function as a kind of live recording of the artist as he worked to accurately depict whats in front of him. The left side of the drawing is a mirror reflection. Were left with his deep sense of ambiguity about whats solid and whats fleeting.
In Rocks Near the Chteau Noir, a watercolor c. 1895-1900, the connection to the artists oil paintings is clear. In its equally spaced placement of square shapes, were reminded of the many oil paintings where Czanne structures three-dimensional form not by describing light and shadow, but by juxtaposing advancing warm hues with receding cool ones. Were also taught a good lesson in watercolorthat allowing veils of paint to dry before layering more color evokes color depth. The patches of untouched white ground that form an integral part of the pictures are something radical brought into his late oil paintings; they break the fourth wall (so to speak) of figurative painting by drawing attention to the picture plane itself.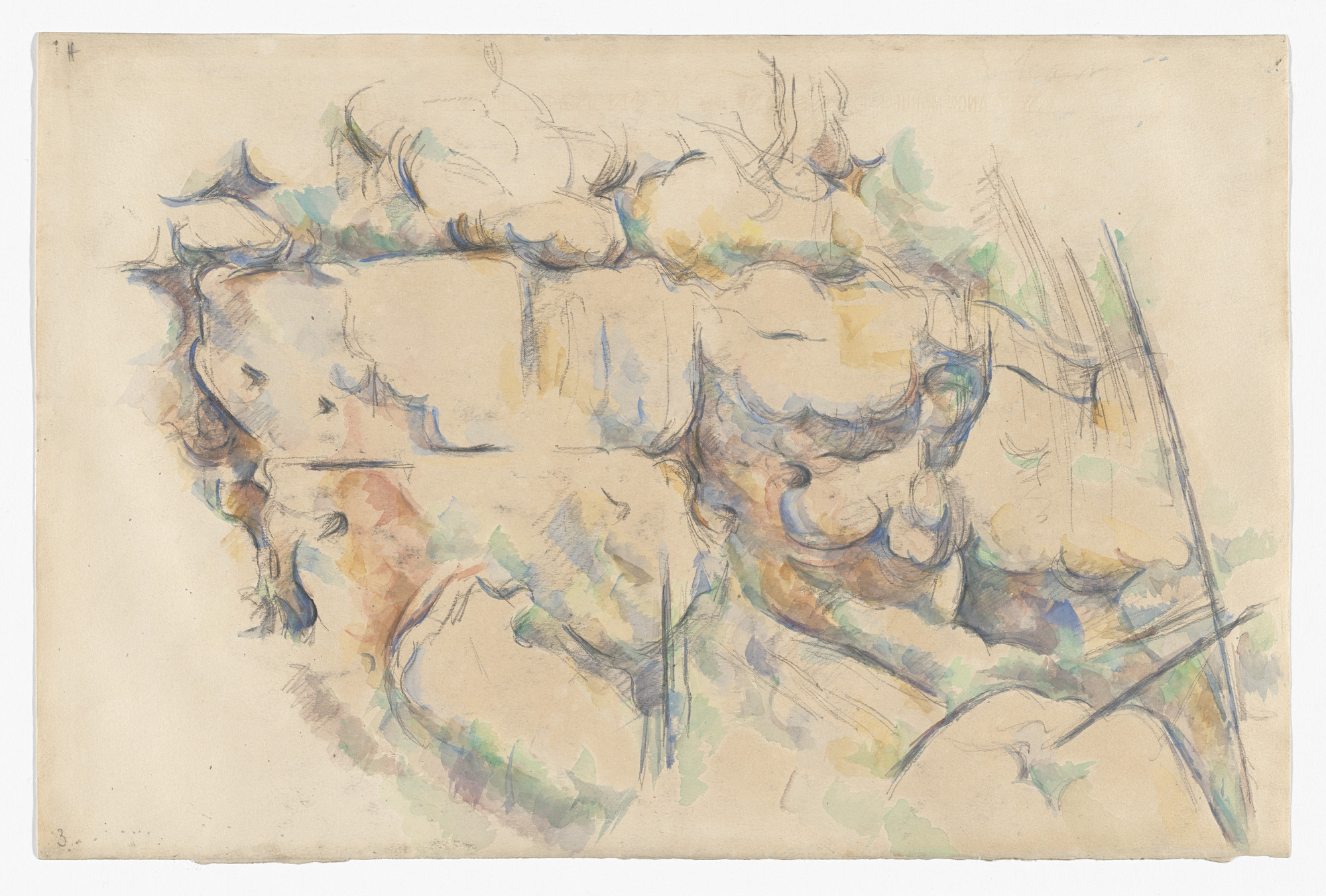 None of this came easy. Czannes life was marked by terrible inner battle. He was by nature a recluse and couldnt bear to be physically touched. His laconic nature and Provenal background held him back socially, and he couldnt fit in with the hip Parisian artists to whom he was introduced by mile Zola, his friend from childhood. Many dismissed him as a sincere but clumsy artist who, though educated and able to read Virgil and Ovid in Latin, was a bit boorish. Lucky for Czanne, then, that his father, ended up giving him a monthly stipend and, finally, an inheritance that financed his outlier existence.
Czannes letters, which many artists like me have pored over, reveal a longing to convey his feelings in the presence of natureby which he meant conveying in paint the wholeness of the natural world. After abandoning Impressionisms fluffy formlessness, he spent the rest of his life drawing and painting nudes, bottles, apples, trees and mountains to balance his direct sensations with his inner knowledge.
Today, Czannes work often strikes the uninitiated as filled with errors and tentativeness. It takes hard looking and the help of a good teacher (in my case it was Professor Warren Maxfield, with whom I studied drawing as an undergraduate) to see that his mistakes are his plasticitypushing in here, popping out thereto try to get things right. For Czanne, to merely copy appearances was to lie. He tried to find a way to paint both the things and the space around those things, and on the way discovered that objects can be understood in painting only by looking at how they interact with one another.
One of Czannes most famous remarks is that he wanted to redo Poussin according to nature (refaire Poussin sur la nature). He aspired to Poussins classical stability, but without the academic baggage of perspective and chiaroscuro. To show the depth and roundness of nature, Czanne relied on the eye for the vision of nature and the brain for the logic of organized sensations. Or, put another way, the eye was to take in everything while imagination and reason decided how to structure it.
Czanne was filled with doubt that his search was leading to bad pictures, but he was no post-modern theorist thinking everything, including nature, is a social construct. What he doubted, and what is the thrilling and ultimately frightening subject of his art, was the possibility of ever knowing or understanding nature. Going through this exhibition I was reminded of why I love modern art. Art resulting from strong convictions shaped ahead of timereligious art, for examplecan be moving, yes, but remains locked into the function of an icon, an object for a viewers gaze. Art resulting from strugglemodern art, in particularasks the viewer to struggle alongside the artist. The viewer has to work to extract meaning from it. In exchange for that work, you are welcomed into a philosophical and aesthetic space in which you experience the freedom of figuring things out for yourself.
Czanne Drawing, Museum of Modern Art, 11 W. 53rd Street, New York, NY. Through September 25, 2021
About the author: Laurie Fendrich is a painter, writer, and professor emerita of fine arts at Hofstra University.
Related posts:
Fiction: The Square Drawing [Laurie Fendrich]
Fiction: The Teddy Bears [Laurie Fendrich]
Laurie Fendrich: How critical thinking sabotages painting
George Hofmann and Laurie Fendrich on artists writing, and the Duccio Fragments series