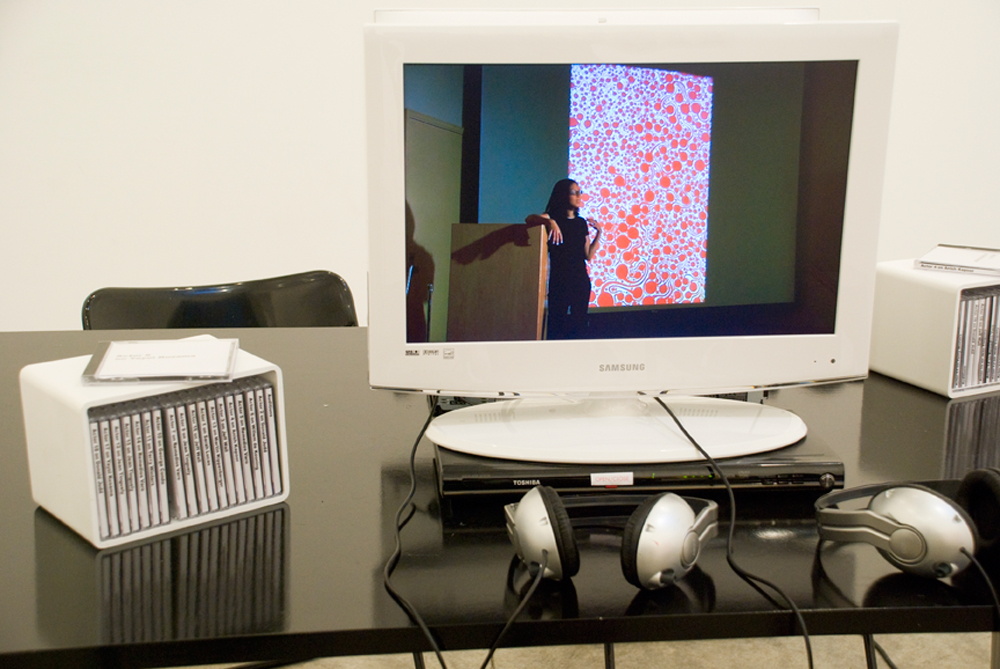 Jennifer and Kevin McCoy, "Artists Talks", 2008 – installation detail, video viewing installation, set of 19 DVDs, 3 – 5 minutes running time each, edition 5 + 2 APs
In 2008, Jennifer and Kevin McCoy created a box set of videos called Artists Talks, which compiled 18 performances where actors were asked to present the work of modern and contemporary artists as if it were their own. The actors had no prior exposure or knowledge of the images and the responses were entirely improvised. Their only instruction was to say what they felt should be said about the images when presenting the artworks to the public. For VOLTA NY, the McCoys, who are currently teaching in Abu Dhabi, have organized tours of the fair in this same spirit. Visitors will be invited to join ten-minute guided tours by a trained actor (not sure exactly what he/she is trained for) who will ruminate, speculate, and pontificate on the works shown at VOLTA. Times for the tours will be posted on the artist's desk at location SP4 on the fair map; a talk has also been organized with the artists as part of the OPEN FORUM series.
I can't think of a better way to spend ten minutes during Armory Arts Week. Stay tuned for more art fair coverage.
Links to info about all the fairs, both large and small, which take place in NYC March 3-6, 2011:
The Art Show (ADAA)
Armory Show
Dependent Art Fair
Fountain Art Fair
Independent Art Fair
Moving Image
Pool Art Fair
Pulse Art Fair
Red Dot
Salon Z�rcher
Scope Art Fair
Verge Art Fair (in Brooklyn)
VOLTA
(If you're wondering WTF is an art fair, click here.)


var a2a_config = a2a_config || {};
a2a_config.linkname = "Two Coats of Paint";
a2a_config.linkurl = "https://www.twocoatsofpaint.com";
a2a_config.prioritize = ["delicious", "email", "linkedin", "twitter", "tumblr", "stumbleupon", "facebook", "blogger_post", "google_gmail", "google_buzz", "digg", "aim"];